ROLL WITH ME
A FILM BY LISA FRANCE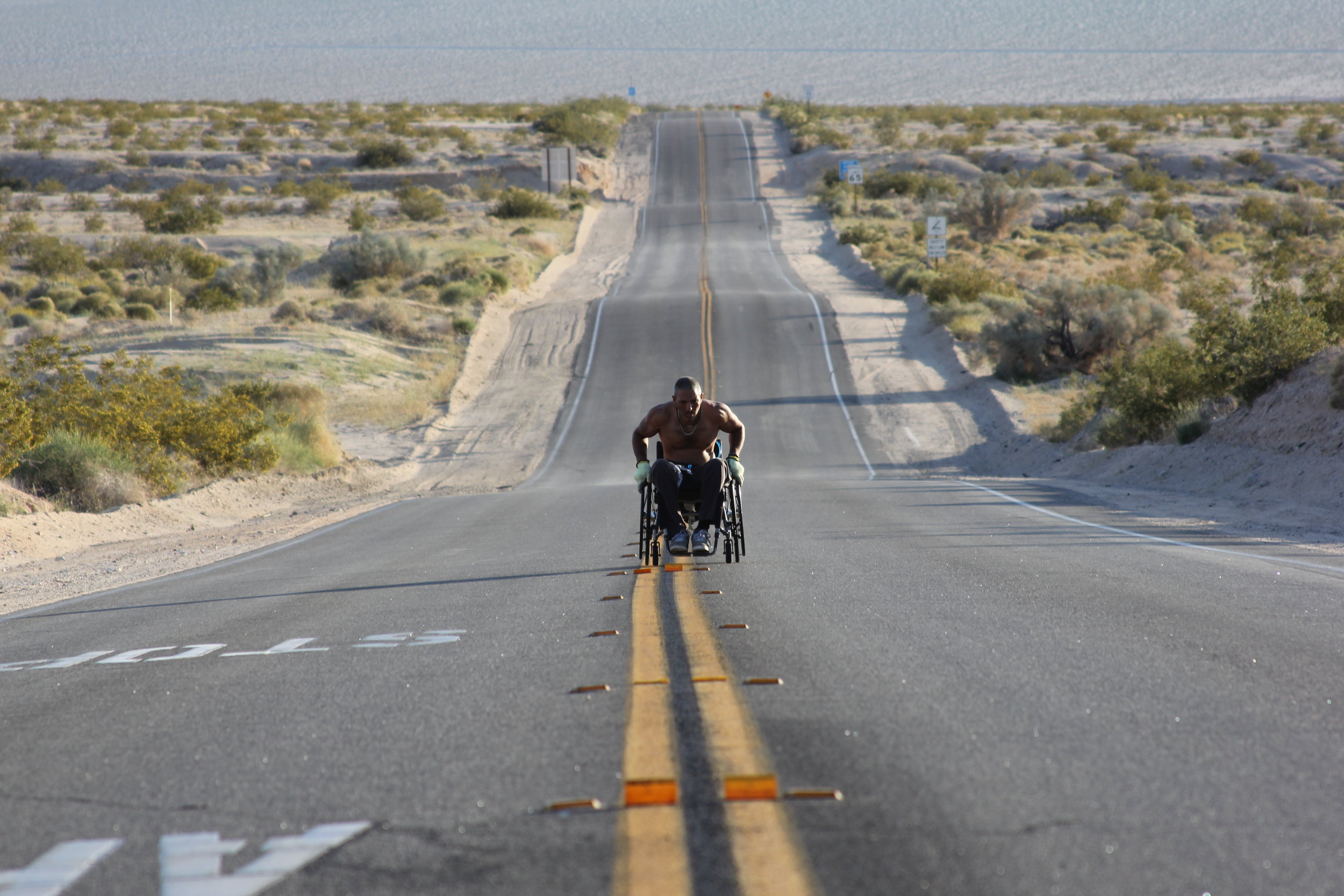 Set amidst 3,100 miles of open road and small towns, ROLL WITH ME chronicles recovering addict and paraplegic Gabriel Cordell's momentous journey to become the first person to roll an unmodified wheelchair across America. Directed by Lisa France, the documentary bands together a crew of unlikely co-conspirators, each battling their own issues. Meaningful and motivating, ROLL WITH ME shares intimate narratives of PTSD, homelessness, unemployment, family estrangement and sobriety struggles. The film begins as a challenge to push an unmodified wheelchair from California to Cordell's hometown of West Hempstead, New York, but along the way Cordell's exploration of endurance establishes ties that speak to our common humanity. ROLL WITH ME is a 2018 Slamdance Official selection.
RELEASED VIA ARRAY STARTING NOVEMBER 2018
REQUEST A SCREENING HERE.
CITY

VENUE

DATES

TICKETS

NEW YORK

VILLAGE EAST CINEMA

Showtime TBD

Presented by Reel Recovery Film Festival and Symposium NY

11.2
COMPLETED
LOS ANGELES

LAEMMLE NOHO

Showtime: 1:00PM

Presented by Reel Recovery Film Festival and Symposium LA

10.12
COMPLETED
PORTLAND, OR

THE HOLLYWOOD THEATER

Showtime: 2:00pm

11.25
COMPLETED
LOS ANGELES

LAEMMLE GLENDALE

Showtime: 7:30PM

Filmmaker Q+A Lisa France + Gabriel Cordell moderated by Ava DuVernay

11.26
COMPLETED
LOS ANGELES

LAEMMLE NOHO

Showtime: 7:30PM

Post-screening filmmaker Q+A hosted by YMCA Burbank

11.27
COMPLETED
NEW YORK

MUSEUM OF MOVING IMAGE

Showtime: 7:00PM

Post-Screening Filmmaker Q+A with Lisa France

11.28
COMPLETED
NEW YORK

IMAGENATION CINEMA

Showtime: 6:30PM

Post-Screening Filmmaker Q+A via Skype with Lisa France

11.28
COMPLETED
LOS ANGELES

LAEMMLE ROYAL

Showtime: 7:30PM

11.29
COMPLETED
HOUSTON

HOUSTON MUSEUM OF AFRICAN AMERICAN CULTURE

Showtime: 7:00PM

11.29
COMPLETED
DULUTH, MN

ZEITGEIST ZINEMA

Showtime: 4:00PM

12.8
COMPLETED
SEATTLE

THE ARK LODGE CINEMA

Showtime: 7:00PM

12.12
COMPLETED
ALBUQUERQUE, NM

GUILD CINEMA

Showtime: 1:00PM

12.23
COMPLETED
DENVER, CO

SIE FILM CENTER

Showtime: 7:00PM

1.7
COMPLETED
BOULDER, CO

THE DAIRY ARTS CENTER

Showtimes: Wed. 1.16 @ 7:00PM, Thurs. 1.17 @ 4:30PM,

Fri. 1.18 @ 2:30PM + 6:45PM, Sat. 1.19 @ 6:00PM

1.16-1.19
COMPLETED